As Donald Trump prepares to kill the Trans-Pacific Partnership, the 12-nation trade pact is helping to spur the biggest overhaul of Vietnam's economy in decades.
The Communist government in Hanoi plans to push ahead with more than 30 separate pieces of legislation proposed to comply with the trade deal, including rules on labor, business, foreign trade, and small-and-medium enterprises. Since a new Constitution was adopted in 2013, Vietnam's lawmakers have passed more than 100 laws — a scale of change unseen since the nation introduced the market-oriented "doi moi" reforms in the 1980s.
"We will continue carrying out what we've planned to do," Nguyen Duc Kien, deputy head of the Vietnam National Assembly's economic committee, said in an interview in Hanoi last week. "It's the technologies and corporate governance that we need to improve. It's crucial."
Vietnam has long been seen as one of the biggest potential winners from the TPP, with increased market access for everything from clothing to electronics to footwear. The deal also stood to complement a growing strategic relationship between the U.S. and Vietnam, which opposes China's territorial claims in the South China Sea.
Yet all isn't lost: The TPP also helped serve as an impetus for long-needed structural changes in a nation with 90 million people that's forecast to grow more than 6 percent this year — one of the fastest rates in Asia. While Vietnam first announced plans to reform its state-owned enterprises in 2011, progress has been slow, with the stakes sold often too small and many companies pulling back on plans to list on exchanges.
'Good Preparation'
"We wanted to have good preparation, with or without TPP," said Vu Thi Thuan, chairwoman of Traphaco JSC, Vietnam's second-largest listed pharmaceutical company. "We still have to make sure we are able to compete with foreign rivals because Vietnam is more and more integrating into the global economy," she said.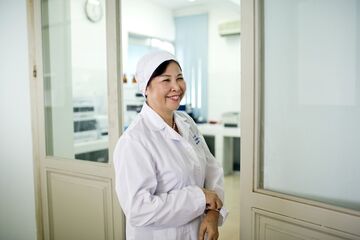 Thuan said Traphaco has spent heavily to increase its competitiveness, including the construction of $22 million factory to prepare for the expected rise in foreign medicines entering Vietnam if TPP came into effect. Other companies in export industries such as textiles and garment, footwear, seafood, wood furniture and agricultural products have also made investments, according to Nghia Trong Pham, deputy director general of the Department of Laws at Vietnam's National Assembly Office.
"This preparation contributes to improve their competitiveness even if the TPP is not taking effect," Nghia said in an e-mail. "It is reasonable to conclude that the period of 2011-2016 is the biggest reforms in Vietnam since Doi Moi. TPP is one of the important actors for this process."
Reform Momentum
Nghia said TPP has also helped raise awareness among key stakeholders including state officials, employers, trade unions, workers and the general public on the implications of free trade. Vietnamese business leaders also appear keen to maintain the reform momentum generated by TPP.
Alan Pham, chief economist at Vietnam's largest fund manager VinaCapital Group, says TPP is a kind of roadmap for Vietnam as it integrates further into the global economy.
"Whether we have TPP or not, Vietnam will still have to reform," Pham said. "The trade pact is really useful for the government and for Vietnamese business to know what are the steps they will need to take to really become part of the global economy."
Last month, the ruling Communist Party adopted a resolution on International Economic Integration that confirmed Vietnam's commitment to further opening up the economy. The Finance Ministry has recommended moves to support start-up companies, including cutting the corporate income-tax rate for small and medium-sized enterprises to as low as 15 percent from the current 20 percent.
China Pact
The TPP includes Japan, Malaysia, Australia and Canada — but excludes China — and would represent nearly 40 percent of global economic output worth $30 trillion if it came into force. The World Bank estimates the pact could raise gross domestic product by an average 1.1 percent in member countries by 2030.
China is now pushing a separate 16-nation agreement called the Regional Comprehensive Economic Partnership. That would include Vietnam along with the rest of the 10-member Association of Southeast Asian Nations, as well as Japan, South Korea, Australia, New Zealand and India.
Prime Minister Nguyen Xuan Phuc said last month that Vietnam would pursue greater international integration through 12 other free trade agreements it had already signed even if the TPP falls through.
"So it'll be very good to have TPP, but if not, we still have other integration plans to go with," Phuc said.
Those agreements, including with the European Union and China, are enough for an economy with nominal gross domestic product of roughly $200 billion to capture growth opportunities in the years to come, Saigon Securities JSC, the country's biggest brokerage, said in a Nov. 11 note to investors.
Vu Tu Thanh, chief Vietnam representative of the U.S.-Asean Business Council, said that while the TPP's collapse isn't good "it's also not very bad" because the Southeast Asian nation will have more time to prepare.
"TPP is a game for big players, while most of Vietnamese companies are small and medium sized," he said. "TPP is just part of the reform — if there's no TPP, the reforming process will still happen in Vietnam."